Arby's hasn't been very friendly to vegans when it comes to PR tactics. They've openly mocked vegetarians before—and their slogan is "We Have the Meats." But they actually have some decent vegan options, too.
Vegan options at Arby's:
Curly Fries
Homestyle Fries
Sweet Potato Waffle Fries
Potato Cakes
Side Salad (Without Cheese)
Apple Turnover
Cherry Turnover
Applesauce (Kids Menu)
Arby's Sauce (And Other Sauces)
Beverages
Below, I'll cover how to order these items vegan, and which items are surprisingly NOT vegan. I'll also discuss Arby's controversial anti-vegan stunts and comments. And I'll share a whole-food plant-based (WFPB) menu, too—for vegans who also avoid processed food.
Arby's Vegan Menu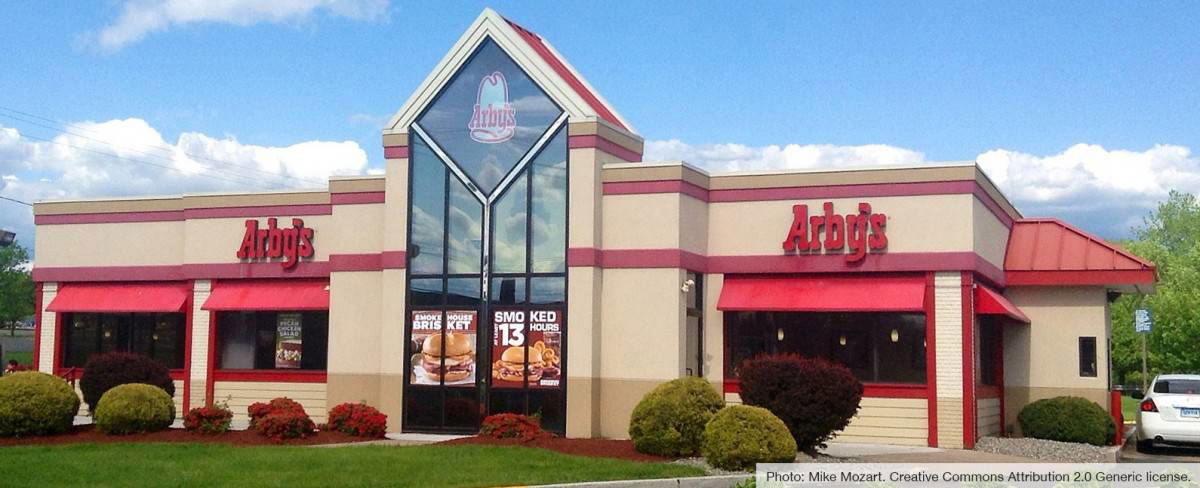 This vegan menu was compiled with the allergen info and ingredients lists on Arby's website.
Restaurant menus frequently change and may vary by location. So you may want to double check the information below with staff at your Arby's location.
1. Curly Fries
These are some of the most legendary fries in American fast food. A delicious memory from many of our childhoods…
And they're completely vegan, like most fries are!
If you've ever wondered where the flavor comes from in Curly Fries, it's mainly onion powder, garlic powder, and a mix of other spices.
Here are the full ingredients:
Curly Fries Ingredients: "Potatoes, Vegetable Oil (contains one or more of the following: canola oil, soybean oil, cottonseed oil, sunflower oil, Corn Oil, palm oil), Enriched Bleached Flour (wheat flour, niacin, reduced iron, thiamine mononitrate, riboflavin, folic acid), Salt, Corn Starch, Onion Powder, Yellow Corn Meal, Spices, Garlic Powder, Leavening (sodium acid pyrophosphate, sodium bicarbonate), Modified Corn Starch, Dextrose, Spice and Coloring, Natural Flavor, Dried Torula Yeast, Xanthan Gum, Sodium Acid Pyrophosphate (to preserve color). Cooked in Vegetable Oil. CONTAINS: WHEAT."
Note: The Loaded Curly Fries are not vegan.
2. Homestyle Fries
If you prefer a more classic, straight french fry… well, you can get these at many Arby's locations, too.
These have a shorter, simpler ingredients list compared to the Curly Fries, and they're fully vegan.
Note: These are fried in shared fryers with non-vegan foods.
3. Sweet Potato Waffle Fries
These are currently a "Special" item at Arby's—so they may not last. But for now, they're here and they're vegan!
You get a lot of novelty here. They're not just sweet potato fries, but you also get the signature waffle shape. Love it.
Note: These are fryed in vegetable oil in shared fryers with animal products.
4. Potato Cakes
I actually love these. They're basically triangle-shaped tater tots. Or you could call them triangle-shaped hash browns
It's amazing how many delicious things you can do with potatoes, oil, and salt.
Note: As with the fries above, Potato Cakes are fryed in shared fryers with non-vegan products.
5. Side Salad (Without Cheese)
This is just a simple side salad. But it's nice to at least have a source of fresh veggies to pair with these fried foods.
If you ask to order it without cheese, you'll just get iceberg lettuce, leaf lettuce, and tomatoes. So it's pretty minimal.
Here are the vegan salad dressing choices:
Light Italian Dressing
Balsamic Vinaigrette Dressing
6. Fruit Turnovers
Now this is an interesting one! Most restaurants have nothing for vegan desserts. Arby's actually has two "accidentally vegan" fruit turnovers:
Apple Turnover
Cherry Turnover
The crust is not made with lard, but with margarine and vegetable shortening (like Crisco, which is vegan). There is no dairy or egg involved, either.
Here's the full ingredients for the Apple Turnover (and the Cherry Turnover is very similar):
"Apple Turnover: Enriched Flour (wheat flour, niacin, malted barley flour, reduced iron, thiamine mononitrate, riboflavin, folic acid), Water, Apples, High Fructose Corn Syrup, Sugar, Modified Food Starch (corn), Contains 2% or less of the following: Corn Syrup, Salt, Raisins, Malic Acid, Sodium Benzoate and Potassium Sorbate (preservatives), Spices, Margarine (palm oil, palm kernel oil, soybean oil, water, salt, mono and diglycerides, polyglycerol esters of fatty acids, soy lecithin, natural flavor, citric acid, vitamin A palmitate, beta carotene [color]), Gum Blend (sucroase, gellan gum, sodium citrate), Sugar, Water, Corn syrup, Vegetable Shortening (palm oil), Contains 2% or less of the following: Natural Flavor, Agar, Potassium Sorbate (preservative), Citric acid, Mono and Diglycerides, Locust Bean Gum. CONTAINS: SOY, WHEAT."
7. Applesauce (Kids Menu)
Arby's has Tree Top Applesauce on the kids menu. And yes… you can get it as an adult.
The ingredients are just apples, water, and added vitamin C (ascorbic acid). So there are no worries from a vegan perspective. It's nice they don't have added sugar, either. (Added sugar or corn syrup is common in applesauce.)
Some locations may have apple slices instead—but those are vegan, too (obviously).
8. Sauces
Arby's is known for its sauces, and many of them are vegan:
Arby's Sauce
Tangy Barbeque Dipping Sauce
Marinara Sauce
Bronco Berry Sauce
Red Ranch Sauce
Smoky Q Sauce
Spicy Three Pepper Sauce
Ketchup
These sauces are NOT vegan:
The Buffalo Dipping Sauce is not vegan, as it contains milk.
The Horsey Sauce is not vegan, as it contains egg.
The "Robust Marinara" used for Pizza Sliders is not vegan, as it contains milk.
The Dijon Honey Mustard Dressing is not vegan, as it contains egg and honey.
9. Beverages
There are plenty of vegan beverages to choose from:
Coffee
Orange Juice
CapriSun Fruit Juice
Barq's Root Beer
Coca-Cola
Coca-Cola Zero Sugar
Diet Coke
Hi-C Flashin' Fruit Punch
Mello Yello
Minute Maid Light Lemonade
Powerade Mountain Berry Blast
Sprite
Diet Dr Pepper
Dr Pepper
Nestle Bottled Water
Brewed Iced Tea
Whole-Food Plant-Based Options
What if you're not just vegan but also trying to avoid processed foods? Are there any whole-food plant-based (WFPB) options at Arby's?
Here are the WFPB options I see:
Side Salad (Without Cheese)
Applesauce (Kids Menu)
That's really it. Most of the vegan options at Arby's are fried potatoes, and oils aren't allowed on a strict WFPB program.
And you may need to have the salad without dressing, too. The only vegan salad dressings (Light Italian and Balsamic Vinaigrette) both contain quite a bit of soybean oil, which is one of the less healthy oils.
So this is not a great restaurant for eating a healthy vegan diet and excluding processed foods. Other restaurants like Wendy's will at least have a baked potato or something.
If you're going to Arby's and trying to make it a healthy meal, you may want to bring your own nutritional yeast to season the salad… And maybe just eat in advance, so you're not that hungry.
Is Arby's Anti-Vegan?
Arby's as a corporation isn't just oblivious to veganism and vegetarianism. They have actually openly mocked and pushed away vegans.
Back in 2015, Arby's released a satirical letter written to mock vegetarians and stir up controversy and press.
The letter basically said, If you're vegetarian and struggling to resist temptation to eat our delicious meats, call our Vegetarian Crisis Hotline at 1-855-MEAT-HLP. You can read it all here.
More recently, Arby's President Rob Lynch has clearly stated that Arby's will "never" offer plant-based meats like the Impossible Burger. He said "Not on my watch," saying it would only ever happen if he's fired. (source)
And that's not all. Arby's also famously made a carrot out of meat—the opposite of a burger made of veggies. It's called the "Marrot," and it was a bit of a viral hit.
After looking at these examples, the slogan "We Have the Meats" takes on a bit of a different feeling. I'm not saying I'd strictly boycott Arby's over this stuff—but I wouldn't be surprised if many vegans did!
Two More Common Questions
Just to make sure I'm answering everyone's questions clearly, here are the full answers to two more questions about vegan options at Arby's.
Is Arby's Sauce Vegan?
Arby's Sauce is confirmed vegan. It contains no milk, egg, honey, or other animal products. Here's the full list of Arby's Sauce ingredients:
"Arby's Sauce: Water, Corn Syrup, Tomato Paste, Distilled Vinegar, High Fructose Corn Syrup, Salt, Modified Corn Starch, Soybean Oil, Xanthan Gum, Garlic (dehydrated), Sodium Benzoate (preservative), Onion (dehydrated), Spice and Spice Extractives, Artificial Flavor, Extractives of Capsicum."
Are Arby's Fries Vegan?
Arby's Fries are generally considered vegan. All their fries are cooked in vegetable oil, not lard or animal fat. In addition, neither the Crispy Fries nor the Homestyle Fries contain non-vegan seasonings.
Here are the ingredients for Arby's Frying Oil:
"Frying Oil: Corn Oil, Soybean Oil, Canola Oil, Hydrogenated Soybean Oil, with Dimethylpolysiloxane (to reduce foaming)."
Two More Recommendations for Your Vegan Journey
1. This is the best vegan multivitamin I've found in 13 years of being vegan. It has vitamin B12, vitamin D, omega-3—and nothing else. Translation: It only has the nutrients vegans are actually low in. Read my full review of Future Kind's multivitamin here (with 10% discount).
2. This is the best vegan starter kit I know of. It's a bundle of 9 beautiful e-books that help you transition to a healthy plant-based diet—the right way. The advice is spot-on, and it has print-outs and checklists that make it easy to implement. Read my full review of Nutriciously here.