In a world where fast fashion trends dictate the market, a growing number of consumers are taking a stand. They're choosing style without the guilt, turning to brands that prioritize environmental responsibility and animal welfare over profit margins. Welcome to the era of sustainable fashion, where looking good doesn't mean harming the planet or its inhabitants.
From Conscious Step to Flamingos' Life and Harvest & Mill, here are five handpicked brands that are redefining the fashion industry with their commitment to a better world. Each of these brands offers something unique, yet they all share a common vision – to create stunning fashion pieces that are as gentle on the earth as they are on your skin.
Read on and discover why these are the five clothing brands you need to add to your cruelty-free wardrobe!
Key Takeaways
Sustainable fashion is a growing trend, with more consumers opting for brands that prioritize environmental responsibility and animal welfare.
Conscious Step is a US brand that offers premium vegan-friendly apparel made from eco-conscious materials, following fair trade and organic practices.
A_C is an Australian brand known for its eco-friendly cactus leather bags and accessories. They are recognized by PETA as a vegan brand.
Flamingos' Life offers vegan shoes made from sustainable vegan leather and other low-impact materials. They use recycled materials in their manufacturing process and packaging.
Harvest & Mill is an American brand that champions certified organic cotton farming. They produce garments that support biodiversity and use low-waste cutting techniques to minimize textile waste.
Gunas is an American fashion business specializing in vegan handbags made from Mulbtex, a material made from mulberry leaf pulp and cotton. They also use recycled materials in their production processes.
Conscious Step – Premium Grade Vegan Fashion
When you're looking to add a touch of sustainability to your wardrobe, you can't miss out on Conscious Step. It's a brand that's not only committed to fair trade and organic practices but also ensures every piece of clothing they produce is vegan-friendly.
This US-based fashion brand stands as a beacon in the world of sustainable clothing. They create premium apparel from eco-conscious materials and have taken significant strides toward achieving lasting social and environmental change. They do this by supporting farms and factories that provide fair wages and safe facilities.
Conscious Step doesn't just pay lip service to being cruelty-free; they embed it into their entire production process. They use Global Organic Textile Standard (GOTS) cotton, an eco-friendly material that reduces the amount of chemicals, water, and wastewater used in production. So when you slip on a pair of their socks or pull on one of their shirts, you'll be wearing something created with respect for both people and the planet.
What sets Conscious Step apart is its unwavering commitment to quality without compromising its values. Every item in their product range isn't just labeled 'vegan'; it truly adheres to vegan principles through every stage of production. The brand is passionate about making ethical fashion choices easy for consumers like you, who want to make a difference with each purchase.
So go ahead, and take that Conscious Step toward building a more sustainable wardrobe today!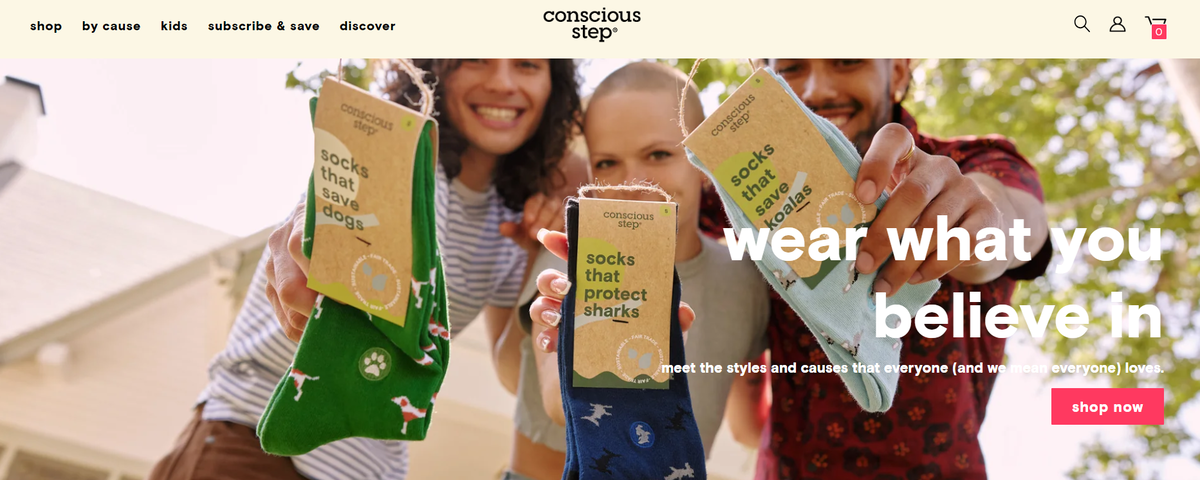 A_C – Sustainable Handbag Fashion Brand
Looking for contemporary yet timeless accessories? You'll adore A_C, an Australian brand renowned for its use of eco-friendly cactus leather, a material as stylish as its kind to the planet.
As one of the leading sustainable fashion brands in today's market, A_C creates unique bags and accessories that not only look good but also do good. Their commitment to maintaining a cruelty-free wardrobe has placed them on PETA's list of vegan brands, setting an example in the fashion industry.
A_C's dedication to sustainability doesn't stop at their choice of materials; it extends into their production process too. The high proportion of eco-friendly materials used limits the amount of chemicals, water, and wastewater involved in their creation.
Adding A_C to your shopping list means you're promoting a better fashion world – one where style doesn't compromise sustainability or ethics.
You're making a powerful statement that you value both the aesthetics and conscience of your wardrobe choices.
Flamingos' Life – Vegan Shoes Made Right
Imagine stepping into a pair of Flamingos' Life sneakers, knowing you're not only embracing style but also supporting an animal-free cause. These vegan shoes are crafted with conscious consumption in mind, providing an option for shoppers who value cruelty-free clothing and sustainable fashion.
Made from high-quality, sustainable vegan leather and other lower-impact materials, these kicks have less of a carbon footprint than your typical footwear while still being stylish and comfortable.
Flamingos' Life is passionate about creating eco-friendly products that don't compromise on aesthetics. Here's what sets them apart:
They use a significant amount of recycled materials in their manufacturing process.
Their approach to production involves manufacturing closer to home, reducing the climate impact associated with long-distance shipping.
The packaging they use is all recycled, reflecting their commitment to sustainability beyond just the product itself.
Their entire range is vegan, making it easy for anyone looking for cruelty-free clothing options to shop with confidence.
Choosing Flamingos' Life means choosing a brand that understands the importance of sustainable practices in fashion today – one that realizes dressing ethically does not mean sacrificing style or comfort.
By opting for their sneakers made from vegan leather and other recycled materials, you're taking a step towards more responsible consumerism without compromising on your personal aesthetic or quality demands.
It's time you add Flamingo's Life to your wardrobe – because every choice matters when it comes to preserving our planet!
Harvest & Mill – Environmentally-Friendly Cotton Apparel
In your quest for eco-conscious vegan clothing brands, Harvest & Mill stands out as a beacon of hope, championing certified organic cotton farming and local sewing communities. Among the best vegan clothing brands, this American ethical and sustainable fashion brand takes environmental responsibility to the next level by producing garments that are not only made from sustainable materials but also support biodiversity.
By cultivating different varieties of cotton, Harvest & Mill is doing their part to ensure healthy ecosystems and resilience in the face of climate change.
Their commitment to sustainable fashion doesn't stop there. The brand goes above and beyond by ensuring that none of its products are dyed or bleached, thus significantly reducing water usage, energy consumption, and dye material waste.
The use of low-waste cutting techniques minimizes textile waste, while local manufacturing reduces their carbon footprint even further. It's clear that every step in Harvest & Mill's production process has been carefully considered with environmental impact in mind.
Adding Harvest & Mill pieces to your cruelty-free wardrobe is a choice you can feel good about making. You'll not only be wearing pieces grown, milled, and sewn exclusively in the US but also supporting a brand that's truly committed to sustainable practices across its entire operation.
Their PETA-approved vegan status serves as an additional testament to their dedication to creating a more compassionate world through fashion. Treat yourself to some new threads from Harvest & Mill – its style meets sustainability at its very best!
Gunas – Ethical Handbags With Style
Next up on our eco-conscious journey is Gunas, an American fashion business specializing in vegan and animal-friendly handbags. This brand is the epitome of luxury vegan fashion, offering a range of trendy bags that let you flaunt your style while also taking a stand against animal cruelty.
From chic totes to sophisticated clutches, Gunas has got all your vegan accessories needs covered. What sets this brand apart from the rest is its innovative use of Mulbtex – a material made from mulberry leaf pulp and cotton. This ingenious material mimics the durability and weather resistance of silk without any harm to our furry friends. Not only are these vegan bags strong, but they also have a unique silky shine that adds an extra touch of luxury.
In addition to Mulbtex, Gunas also uses recycled materials in its production processes as part of its commitment to sustainability. But it doesn't stop there; each bag by this stellar vegan brand is made by hand to minimize its carbon footprint even further.
Let's not forget that Gunas has earned recognition from PETA for being 100 percent vegan! So next time you're shopping for a new accessory, consider choosing Gunas for your wardrobe – not just because they're stylish but because they symbolize a step towards conscious living and sustainable fashion choices.
Final Thoughts
As you can see, choosing sustainable fashion doesn't mean compromising on style or quality. These five vegan and cruelty-free fashion brands – Conscious Step, A_C, Flamingos' Life, Harvest & Mill, and Gunas – are leading the way in creating beautiful, high-quality pieces that align with a conscious, vegan lifestyle.
Investing in these brands means investing in a future where fashion co-exists in harmony with our planet and its inhabitants. It's about recognizing that every purchase we make sends a message about the kind of world we want to live in.
So next time you're updating your wardrobe, consider these stylish vegan clothing brands. Not only will you be adding stunning pieces to your collection, but you'll also be making a statement about your commitment to sustainability and animal welfare. After all, every step we take towards sustainable fashion is a step towards a better future for us all. Happy shopping!
More Guides to Vegan Brands
If you'd like some food ideas to help you on your vegan journey, here are links to some of my Vegan Food Brand Guides:
Looking for a sign that it's time to take charge of your diet? This is it. Watch the Food or Health Masterclass—completely free—and discover the 10 surprising nutrition breakthroughs everyone should know. Reserve your free spot here!