As a vegan, I try to focus my diet on fresh, whole foods. But that doesn't mean every meal needs to be raw fruits and vegetables. There are plenty of non-perishable, shelf-stable vegan foods to keep on hand.
In this article, I've compiled a huge list of 272 non-perishable vegan foods. Whether you're trying to prep for a hurricane or pandemic… or if you just want to wait a bit longer between grocery store trips—this list will help you out!
The lists below may contain some items that have trace amounts of animal-derived ingredients. Always check the label to be sure an item fits your specific needs.
Vegan Cereals
There are so many vegan-friendly milk options available now—almond milk, cashew milk, coconut milk, and oat milk, just to name a few! So many cereals make appealing shelf-stable vegan options.
A lot of controversy exists about which cereals are truly vegan, though. This is mainly because the fortified vitamin D3 often comes from non-vegan sources. (Read more about Vitamin D in cereal and my thoughts here).
Also, remember to use your discretion when it comes to cereal, as some options are loaded with sugar, and almost all cereals are high on the glycemic index.
This is not an exhaustive list of every vegan cereal. Just a list to get you started!
365 Brown Rice Crisps
365 Crunchy Cinnamon Squares
365 Fruit and Nut Muesli
365 Peanut Butter & Cocoa Balls
All-Bran Buds
All-Bran Original
Annie's Organics Cocoa Bunnies
Apple Jacks
Barbara's Peanut Butter Puffins
Barbara's Puffins Original
Cap'n Crunch
Cap'n Crunch Crunch Berries
Cap'n Crunch Peanut Butter Crunch
Cascadian Farm Graham Crunch
Cascadian Farm Multi-Grain Squares
Cascadian Farm Organic Cinnamon Crunch
Cinnamon Toast Crunch
Cocoa Krispies
Cocoa Pebbles
Cookie Crisp
Corn Chex
Corn Flakes
Corn Pops
Crispix
Envirokids Gorilla Munch
Ezekiel 4:9 Almond
Ezekiel 4:9 Golden Flax
Ezekiel 4:9 Original
Fiber One Original
Froot Loops
Frosted Cheerios
Frosted Flakes
Fruity Pebbles
Golden Grahams
Grape Nuts
Kashi 7 Whole Grain, Flakes
Kashi 7 Whole Grain, Puffs
Kashi Organic Sprouted Grains
Kashi Strawberry Fields
Kellogg's Cracklin' Oat Bran
Kix
Multigrain Cheerios
Nature's Path Flax Plus Multibran Flakes
Nature's Path Flax Plus Pumpkin Raisin Crunch
Nature's Path Love Crunch Dark Chocolate Macaroon
Nature's Path Mesa Sunrise Flakes
Quaker Life Cereal
Quaker Life Cinnamon
Quaker Puffed Wheat
Raisin Bran
Reese's Puffs
Rice Chex
Rice Krispies
Rice Puffs
Shredded Wheat Original (Unfrosted)
Toasted Oats (Cheerios)
Trix
Weetabix
Wheaties
Non-Perishable Vegan Snacks
Whether you're craving salty or sweet, there are tons of shelf-stable vegan snacks. While these may not always be the healthiest, you can be sure they'll hit the spot!
Remember, everything in moderation!
Savory and Salty Vegan Snacks
Baked Lay's Original Chips
Baked Lay's Dill Pickle
Baked Lay's Lightly Salted
Baked Lay's Limon
Baked Lay's Ruffles
Baked Lay's Salt and Vinegar
Carr's Table Water Crackers
Carr's Poppy & Sesame Crackers
Club Crackers Original
Club Crackers Multi-grain
Club Crackers Reduced Fat
Club Crackers Buttery Garlic
Fritos Corn Chips
Keebler Toasteds: Toasted Sesame
Kettle Brand Chips (Backyard Barbecue, Jalapeño, Maple Bacon, Pepperoncini, Red Curry, Roasted Garlic, Sea Salt, Sea Salt & Vinegar, Spicy Thai, Sriracha, and Unsalted)
Lay's Classic Potato Chips
Lay's Classic Barbecue Chips
Popcorn: Boom Chicka Pop Sea Salt
Popcorn: Earth Balance Vegan Aged White Cheddar Popcorn
Popcorn: Orville Redenbacher's Naturals Simply Salted
Popcorn: Orville Redenbacher's Naturals Lime & Salt
Popcorn: Act II Kettle Corn
Popcorn: Act II Butter Lovers
Popcorn: Pop Secret: Sea Salt
Popcorn: Skinny Pop
Pretzels (pretty much all of them)
Pringles BBQ
Pringles Original
Pringles Paprika
Pringles Wavy Classic Salted
Pingles Lightly Salted
Pringles Wasabi & Soy Sauce
Quaker Rice Cakes: Lightly Salted
Ritz Crackers
Ritz Crackers Hint of Salt
Ritz Bits Crackers with Peanut Butter
Ruffles Barbecue Potato Chips
Ruffles Original Potato Chips
Saltine Crackers
Spicy Sweet Chili Doritos
SuperPretzel Soft Pretzels
Sun Chips Original Flavor
SnackWells Cracked Pepper Crackers
Stacy's Pita Chips (Italian Harvest, Multigrain, Simply Naked, and Veggie Medley)
Snyder's of Hanover Jalapeño Pretzel Pieces
Thomas' Bagels (Blueberry, Cinnamon Swirl, Cinnamon Raisin, Everything, Onion, Plain, 100% Whole Wheat, and more)
Tortilla Chips
Triscuits Original
Triscuits Hint of Sea Salt
Triscuits Cracked Pepper
Triscuits Rosemary and Olive Oil
Triscuits Roasted Garlic
Triscuits Dill, Sea Salt, and Olive Oil
Triscuits Fire-Roasted Tomato and Olive Oil
Triscuits Avocado, Cilantro, and Lime
Triscuits Brown Rice & Sweet Potato
Triscuits Rye with Caraway Seeds
Triscuits Garden Herb
Triscuits Reduced Fat
Town House Light Buttery Crackers Original
Wheat Thins Original
Wheat Thins Sundried Tomato & Basil
Wheat Thins Hint of Salt
Wheat Thins Reduced Fat
Wheat Thins Multigrain
Wheat Thins Spicy Buffalo
Wheat Thins Zesty Salsa
Wheat Thins Cracked Pepper & Olive Oil
Wheat Thins Multigrain Toasted Chips
Wheat Thins Flatbread: Garlic & Parsley
Wheat Thins Flatbread: Tuscan Herb
Sweet Vegan Snacks
Airheads (all flavors)
Animal Crackers
Brach's Mandarin Orange Slices
Brach's Root Beer Barrels
Cracker Jacks
Dots Candy
Dum Dums
Duncan Hines Whipped Frosting (Chocolate, Fluffy White, and Vanilla)
Essential Everyday Chewy Chocolate Chip Cookies
Fruit By The Foot
Fudge Striped Shortbread Cookies
Haribo Sour S'ghetti Gummi Candy
Hershey's Syrup
Jell-O Instant Pudding & Pie Filling (Banana Cream, Butterscotch, Cheesecake, Chocolate, Chocolate Fudge, Coconut Cream, Devil's Food, French Vanilla, Lemon, Oreo Cookies 'n Creme, Pistachio, Pumpkin Spice, Vanilla, and White Chocolate)
Jell-O Cook & Serve Pudding & Pie Filling (Banana Cream, Butterscotch, Chocolate, Chocolate Fudge, Coconut Cream, Lemon, Rice Pudding, and Vanilla)
Kool-Aid
Mary Jane Candy
Mott's Medleys Assorted Fruit Snacks
Munchos
Nabisco Ginger Snaps
Nature's Path Deep Chocolate Signature Series Cookies
Nature's Path Ginger Spice Signature Series Cookies
Nature's Path Lemon Poppy Signature Series Cookies
Nature Valley Crunchy Granola Bars (Apple Crisp, Cinnamon, Peanut Butter, Pecan Crunch, and Roasted Almond)
Nutter Butter
Oreos
Oreo Fudge Cremes
Oreo Chocolate Cones
Oreo Thin Crisps
Swedish Fish
Sour Patch Kids
Super Bubble Bubble Gum
Twizzlers
Wafers (Vanilla Wafers, etc)
Vegan Sides, Staples, & Quick Meals (Non-Perishable)
Sometimes you need something quick and easy to make—so keep some of these non-perishable meals, side dishes, and essentials on hand!
Some of these products may recommend adding non-vegan ingredients to prepare the food, so make sure to substitute those with your favorite vegan options. For example, if the box says to add milk, simply add a plant-based milk.
Non-Perishable Vegan Side Dishes
Pasta (most brands and varieties—just avoid eggs)
Banza Chickpea Pasta
Mission Foods Taco Shells (and most brands)
Fat-Free Refried Beans
Rice a Roni Spanish Rice
Ready-Made Meals
Dr. McDougall's Vegan Ramen
Loma Linda Plant-Based Protein Chipotle Bowls
Nissin Top Ramen (Soy Sauce or Chili Flavors)
Thai Kitchen Noodle Bowls (Hot & Sour, Mushroom, Roasted Garlic, Spring Onion, and Thai Peanut)
Top Ramen Oriental Flavor
Vegan Flavorings & Recipe Enhancers
Campbell's Mushroom Gravy
Classico Pasta Sauce
Classico Pizza Sauce (Fire Roasted and Traditional)
Crisco Original No-Stick Cooking Spray
Gravy Master Browning & Seasoning Sauce
Hunt's Manwich Sloppy Joe Sauce (Original, Bold, Thick & Chunky)
Idahoan Original Mashed Potatoes
Kellogg's Corn Flakes Crumbs
Knorr Red Bell Pepper Pesto Sauce Mix
Kraft Shake 'N Bake Seasoned Coating Mix Original Chicken
Lipton's Onion Soup and Dip Mix
Liquid Aminos
McCormick Bac'n Pieces
McCormick Fajitas Seasoning Mix
McCormick French Onion Dip Mix
McCormick Vegetable Dip Mix
Old El Paso Burrito Seasoning Mix
Old El Paso Enchilada Sauce
Old El Paso Fajita Seasoning Mix
Old El Paso Salsa Seasoning Mix
Old El Paso Taco Seasoning Mix (Original, Hot & Spicy, Mild, 25% Less Sodium)
Ragú Pizza Quick Snack Sauce (Traditional)
Ragú Homemade Style Pizza Sauce
Zatarain's Dirty Rice Mix
Best Canned Food for Vegetarians & Vegans
Keeping canned goods around is smart for easy food prep and fast meals—and great in case of an emergency. These make fantastic vegan hurricane food or general vegetarian emergency food:
Amy's Soups (Alphabet Soup, Black Bean Vegetable Soup, Butternut Squash Soup, Vegan Chunky Tomato Bisque, Chunky Vegetable Soup, Fire Roasted Southwestern Vegetable Soup, Hearty French Country Vegetable Soup, Hearty Minestrone With Vegetables, Hearty Rustic Italian Vegetable Soup, Hearty Spanish Rice & Red Bean Soup, Indian Curried Lentil Soup, Lentil Soup, Lentil Vegetable Soup, Minestrone Soup, No Chicken Noodle Soup, Split Pea Soup, Thai Coconut Soup, Thai Curry Sweet Potato Lentil Soup, Tuscan Bean & Rice Soup, Vegetable Barley Soup)
Bush's Vegetarian Baked Beans
Campbell's Tomato Soup
Coconut Milk (Any Brand)
Healthy Choice Garden Vegetable Soup
Hormel Vegetarian Chili With Beans
Progresso Lentil Soup
Canned & Jarred Vegetables
When you don't have regular access to fresh vegetables at home, having non-perishable vegetables in the kitchen is a life-saver. Below are vegetables and beans you can get in canned and jarred varieties:
Artichoke Hearts
Beets
Carrots
Corn (all varieties)
Green Beans
Kidney Beans
Garbanzo Beans
Black Beans
Red Beans
Pinto Beans
Cannellini Beans
Mixed vegetables
Mushrooms
Okra
Peas
Pepperocinis
Roasted Red Peppers
Canned Spinach
Canned Potatoes
Tomatoes (diced, crushed, puree, sauce, etc)
Vegan Survival Food
Now we're getting into the real vegan prepper stuff! Well, kind of. You could stock these items in your kitchen without being a prepper. But they have a bit more of that long-lasting bulk food storage feel to them.
Vegan Freeze-Dried & Dehydrated Food
For vegetarian and vegan survivalists, or even vegans that love to go camping and backpacking, freeze-dried food is a great option.
Below are some brands that have great vegan options for freeze-dried and dehydrated meals:
Alpine Aire
Backpacker's Pantry
Cache Lake
Good-To-Go
Harmony House
MaryJanesFarm
OMEALS
Outdoor Herbivore
Patagonia Provisions
Trailfork
Wild Zora
Vegan MREs
MRE stands for "meal ready to eat." They're a military thing, primarily. But they'd be a great thing to have stocked as a prepper, too. Are there vegan MREs?
The only vegan MRE I've seen so far is from MRE Nation, and as I'm writing this post, it's currently sold out. That said, you can check the sales page here to see if it's back in stock.
Grains and Staples
Other great sources of survival food are grains, legumes, and more that you can buy in bulk. I remember when COVID-19 first got to the United States, I stocked up on a ton of bulk quinoa and rice—and I still have most of it!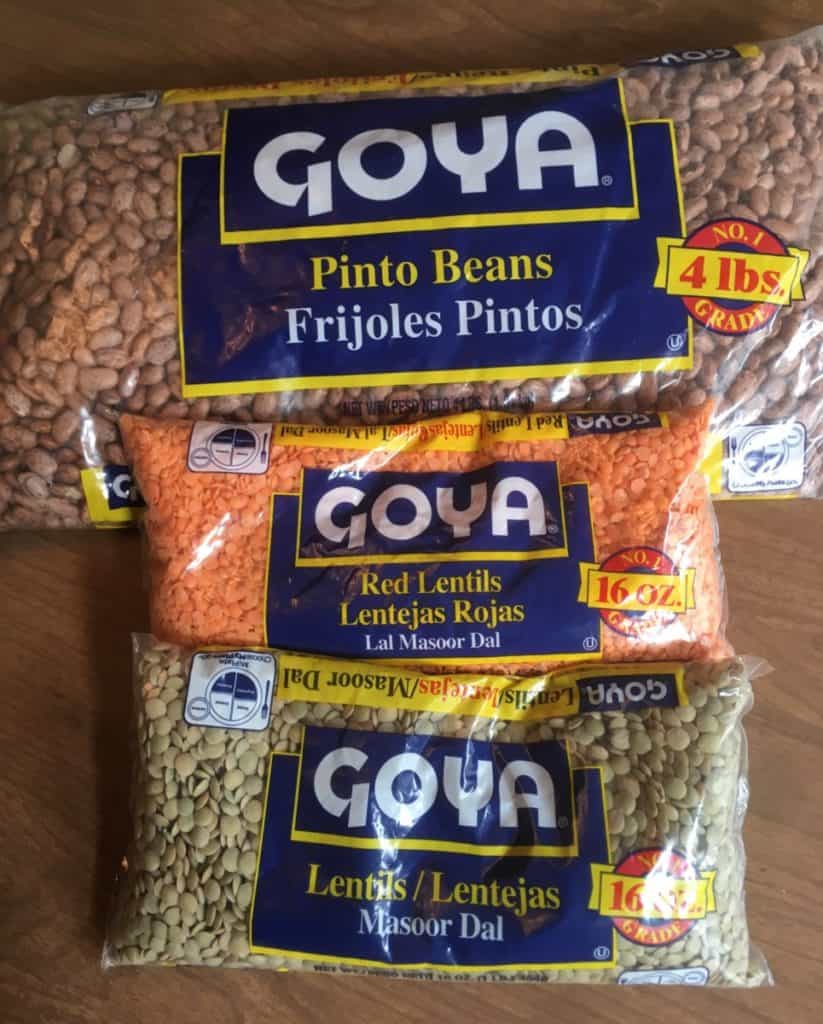 Barley
Bulgur
Couscous
Farro
Grits
Granola
Flour
Lentils
Oatmeal
Quinoa
Rice (All varieties)
Whole Wheat Pasta
Also, take a look back up at some of the beans in the canned section. You can also purchase many of them dried in bags, too!
Dehydrated Soy Protein
Here are three options for dehydrated soy protein that will last quite a while on the shelf:
Textured vegetable protein (TVP)
Textured soy protein (TSP)
Dried Fruit, Nuts, and Seeds
Did you know that nuts, seeds, and dried fruits are non-perishable? Nuts are a great snack for vegans, containing protein, fiber, and health fats. Dried fruits are high in sugar, but they pair well with nuts and seeds for an energy-dense snack.
Below are some dried fruits, seeds, and nuts that are great to store:
Almonds
Apricots
Bananas
Blueberries
Brazil Nuts
Cashews
Cherries
Chia Seeds
Coconut
Dates
Flax Seeds
Hazelnuts
Macadamia Nuts
Mango
Peanuts
Pecans
Pistachios
Pumpkin Seeds
Sunflower Seeds
Walnuts
Vegan Food Storage
If you really want your non-perishable food to last, you need to take care to store it properly.
Certain foods, such as canned, jarred, and freeze-dried meals, will be easier to store—they're already in containers that'll keep them fresh.
But others, like your dried beans, legumes, grains, and nuts will need to be properly stored. Proper food storage will ensure that no critters can get into your food stash.
For these foods, you'll want to purchase BPA-free, airtight containers, like this set from Rubbermaid (Amazon link). Make sure to wash them out with soap and water first, and ensure they're completely dry before filling them up.
Placing silica packets in the containers can also help ensure freshness and longevity. Just make sure not to eat those later! (Silica is vegan—but it's not edible!)
Cool, dark spaces with regulated temperatures are best for storing your vegan survival food.
Two More Recommendations for Your Plant-Based Journey
1. This is the best free video training I've found on plant-based nutrition. You'll learn how to reduce your risk of cancer, heart disease, type 2 diabetes, Alzheimer's, and obesity—all with plant-based food. Watch the free "Food for Health Masterclass" here.
2. This is the best vegan multivitamin I've found in my 14 years of being vegan. It has vitamin B12, vitamin D, omega-3—and nothing else. Translation: It only has the nutrients vegans are actually low in. Read my full review of Future Kind's multivitamin here (with 10% discount).